Welcome to the MOST recommended locksmith franchise in the UK.
"I wanted the freedom of being my own boss and having control of my own workload" – Alastair Mcleod, Lockforce Teeside
"If I could turn back the clock, I would have joined Lockforce when I first left the army" – Steve Gadsby, Lockforce Lincoln
You have full control and flexibility over your hours, and there's world-class training and support from a market-leading team as well, so you're never on your own.
We cover numerous locations and will set you up as the exclusive Lockforce franchisee in your area. We'll also work with you to get your first £5,000 of business and show you how to turn your Lockforce franchise into a hugely profitable and rewarding locksmith business.
With over 9,400 customer reviews and a 5-star reputation, it's no wonder we're the 'go to' guys when customers need an emergency locksmith. And it could be your phone that rings.
 Call us Today on 03335 670 562
Here's everything you need to know…
If you want to be involved with Lockforce, something that is genuinely cutting edge in the world of locksmiths, continually leading the way and pioneering where others follow, then hop on board and talk to us about a franchise. It will be VERY
rewarding and fulfilling.
To find out more – and get your work/life balance sorted

Why we might
be right for
you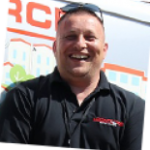 "It's the best thing I've done…"
"I previously worked for a supplier of Lockforce and decided to join Lockforce after seeing their brand and reputation going from strength to strength.
I love what I do, every day is different. I am my own Boss and get to manage my own time, earnings and workload. Starting you own Business whatever you decide to do isn't easy. With the backing of Lockforce, I've had the support from Head Office and the network which has been great. It's the best thing I've done; yes I do still get stressed but not like I use to… it's just the way I am."
Andy Yuill
Lockforce Sutton
Book your Discovery Day today!
We like to get to know you, and a great way for you to meet us is at our Discovery Days. Here's what'll happen:
You'll find out what's involved, what's required from you, and what we'll do for you
You can chat with existing franchisees and get to know what a typical day in the life of a franchisee is like
You'll meet Sean, Gayle and the team, and get your questions answered.
You can see if Lockforce might be right for you
You'll enjoy lunch on us!