Frequently Asked Questions about Lockforce
You're bound to have questions, and probably lots of them, and that's exactly how it should be!
Here are some of the most common questions we get asked, but our Discovery Days are a great chance to ask any other questions you have.
Please take a look through the six videos which should answer most of your questions about the Lockforce Franchise.
Further questions or to book a Discovery Day to find out more, please call Gayle on 03335 670 562.
Do I need experience in being a locksmith?
No. It's great if you do but it's not a pre-requisite. Our comprehensive training programme gives you all the knowledge and skills you'll need.
Can I start part-time?
Yes, it is a possibility but we don't recommend it. Some of our technicians have started in this way, building it up so they can give the 'day' job up. Just be aware that as long as you rely on your 'comfort blanket' you run the risk of not pushing yourself to really get your franchise going.
How much money will I need to invest in the business?
The minimum investment is from £17,995 + VAT. You will need a van and some working capital to live off whilst your franchise is growing and starts generating sufficient cash.
When can I expect to start earning money?
On Day 1, as soon as you have completed the training. Whilst you are here at Head office we spend time with you setting up your web pages and social media. But after that, the enquiries should start to roll in! We have had franchisees booking job in during their training!
What sort of return can I expect to make from my investment?
It is very much up to you. We have some franchisees earning £70k per year and some earning less than £20k. However, following our business plan you should expect to earn between £30-£50k in your first year. Most technicians work on excellent margins and 35% of our current technicians are earning in excess of £50k.
Are there any limits to growth?
No. You can employ additional technicians when you run out of hours in the day to support your growing business. Several franchisees already have a team and are rapidly growing their businesses, others don't want to.
What type of people become franchisees with Lockforce?
Energetic, self-motivated individuals who enjoy the outdoors are typically drawn to this type of business. More important than your background is a real desire to succeed and deliver brilliant customer service.
How long is the training?
The training is just over 2.5 weeks. Two weeks technical 1:1 in a workshop and on live jobs and x3 days business training at HQ. In all honesty we can't teach you everything you need to know to be a Locksmith during that time but we can teach you what you need to know for 90% of the jobs. The beauty of being part of the franchise is the support you get, there is always someone to ask.
How quickly can I get onboard?
The fastest we've onboarded someone from initial conversation to training is 4 weeks. Typically is takes 6-8weeks depending if you need funding or not.
What support does Lockforce offer to new Franchisee's?
The support the team at Lockforce offer is second to none, please do take a look at our franchisee testimonials. We offer support in all areas, technical, generating leads, marketing, business and finance. By joining the franchise this is what you are buying into….the support package. We have been there and done it, made the mistakes and now set our Franchisee's up for success. We have over 30 Franchisee's in our network so you are joining a proven support model.
Book your Discovery Day today!
We like to get to know you, and a great way for you to meet us is at our Discovery Days. Here's what'll
happen:
You'll find out what's involved, what's required from you, and what we'll do for you
You can chat with existing franchisees and get to know what a typical day in the life of a franchisee is like
You'll meet Sean, Gayle and the team, and get your questions answered.
You can see if Lockforce might be right for you
You'll enjoy lunch on us!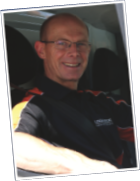 'Lockforce is a fantastic opportunity'
I first heard about Lockforce through the Quest Forces Magazine. The Locksmith industry sounded interesting, different and quite unusual and I was curious to find out what it was about.
I wanted the freedom of being my own boss and having control of my own workload. I also wanted to | be able to transfer the work life experience and skills I had already gained. The training has been very rewarding. It has been enlightening and fun. I would say that if you are thinking about Lockforce, it is a fantastic opportunity. Be brave, make the decision and call Gayle!"
Alastair McLeod Lockforce Redcar and Teeside