All you need to know about a Lockforce
franchise
To join our Lockforce franchise, you'll need an initial investment of £17,995 + VAT, plus some working capital. In our experience,
franchisees are able to easily recoup this initial investment within their first year.
Franchisees are able to recoup this initial investment within their first year with us and live comfortably.
Lockforce will help you to generate your first £5,000 of sales, and show you how to turn your franchise into a hugely profitable and rewarding locksmith business.
To help you get off to the best possible start, we'll give you:
The Franchise Package is one of the very best in the UK and includes…

Defined Territory
You'll be the only Lockforce technician in your area. Guaranteed. No-one else will have a Lockforce franchise where you are, so you'll be the first port of call for customers that need an expert locksmith.

Full training
You'll be enrolled on a two-week interactive course with one-to-one training on becoming a top-notch locksmith .
Starter Marketing Pack worth £2,000
You'll be able to build your business quicker with our pack that helps you with website, social media and Google Adwords set-up and management!

Business Stationery
You'll have Lockforce branded stationery to give your franchise a professional image when you visit customers.

Tool kit
There's no need to dash out and buy any tools to become a locksmith, because we'll give you everything you need.

Branded Uniform
You'll look good and feel good, and give a professional image to all your customers when you're wearing a Lockforce branded uniform.

Reviews Platform
Collating the reviews you receive and putting them in one place means your customers are more likely to choose you.

Loyalty Programme
You'll be rewarded when you refer prospective franchisees to Lockforce.

DBS Check
To ensure your customers have complete peace of mind when you're on their premises.

Telephone Tracking Numbers
You'll be able to see which marketing method is working best for you

Online Operational Management System
Less time spent doing admin means more time with customers (and therefore, more income for you!

Vehicle Livery
Promote your business every day, wherever you go, even when you're not working.

Health and Safety Package
You'll get all the advice you need, when you need it, thanks to our comprehensive package for locksmiths

Continual Personal Development
You'll be kept updated of changes in the industry that could affect you.

Supplier Accounts
You'll have access to the best products, at the very best prices.

Public Liability Insurance
For peace of mind for you and your customers, you'll always be covered.
Income
There's a fixed monthly fee, so the great thing is that, with this business, what you can earn is entirely up to you.
Your earnings will depend on a number of things, such as your work ethic, the time you devote to the business (and how effectively
you spend that time), the way in which you deploy the techniques we give you and, of course, your existing skills, experience and contacts.
Book your Discovery Day today!
We like to get to know you, and a great way for you to meet us is at our Discovery Days. Here's what'll happen:
You'll find out what's involved, what's required from you, and what we'll do for you
You can chat with existing franchisees and get to know what a typical day in the life of a franchisee is like
You'll meet Sean, Gayle and the team, and get your questions answered.
You can see if Lockforce might be right for you
You'll enjoy lunch on us!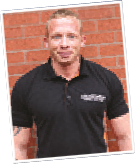 'We got hands-on training with real customers'
"The training worked very well for me. It was on a one-to-one basis in Leeds with another member of the team.
It started in a classroom and then we would go out doing jobs with real customers so we actually got hands-on training whilst doing live jobs, which is how I like to learn.
Ricky Burt Lockforce Hull